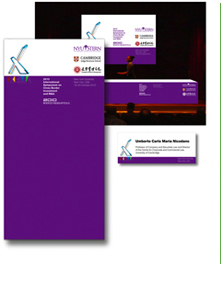 XBMA
Cross Border Mergers and Acquisitions Symposium

XBMA is convened on a three-yearly cycle basis, hosted in turn by Peking University, University of Cambridge and New York University. Delegates and speakers are drawn from leading academics in the field, CEO and Director level individuals from national banks and financial institutions, law firms, consultancies and government departments.

In 2009, HSAG Design were commissioned to design and produce the conference branding and support materials. The XBMA logo and colours from 2008 were retained and the conference support materials were developed to include Agendas, Speaker Biographies, Table Seating Guides and Auditorium branding.

In 2010 HSAG were again commissioned to produce
the support materials for the New York Symposium, designing and manufacturing over 1800 items in London to fit carefully controlled budgets, supplying to the Symposium using 44 overnight shipments to New York. Careful control and planning enabled last minute changes to content, everything arriving in time and
on budget.